Jean-Marie Reynaud Abscisse Jubile Pearly White
По предварительному заказу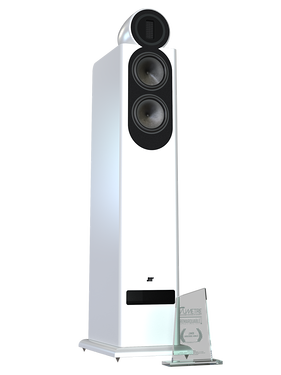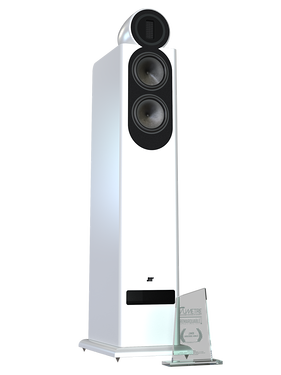 The ABSCISSA Jubilee is a comprehensive review of the x-coordinate.
Like its predecessor, it summarises the focus of our research is to come closer still closer to the musical message original.
ABSCISSE is a mathematical term referring to the axis given to our research in the past and directed towards the future.
It was developed in the first objective is to create a system that is as compact as possible, which can be installed with a minimum of constraint positioning. It concentrates all the know-how and the experience of 50 years in the service of the music and the beautiful sound.
With compact dimensions, it offers the performance of a large system, deploying a sound image that is wide and perfectly structured. It distils a very fine density of stamp, very nuanced, and its spectral balance is remarkable. It offers a very nice scope in the extreme bass, while remaining very dynamic and articulated. Her middle register is very open, clear, delicate but also very rich and varied.
High-pitched sound is simply exceptional natural, it file very high without any acidity, tension or aggression. The silk strings, the diphthongs of the voice are reproduced with a very high accuracy but without false light, or redundancy. All the transients and dynamics are fine reproduced accurately in nuance and with an amazing serenity.
It responds perfectly to the request of a public music-lover, sensitive to the shimmering timbres, breathing, and articulated an interpretation.
Thanks to its linearity is exemplary, its impulse response, exact as well as a payback time of particularly rapid and regular, the ABSCISSA Jubilee has a great expressiveness devoid of hardness, providing hours of listening without any fatigue.
It physically erases, leaving a sound stage very wide, very stable and deep. The details of a sound recording, the geometrical proportions of a sound read with ease, without false light, leaving express with a great freedom with the backgrounds. Its serious fast and particularly well-articulated allows ABSCISSA Jubilee to be installed in any type of room, even of small size with a constant energy and perfectly mastered.
It is resolutely modern in form and spirit, quick, transparent, responsive to the slightest stress, without ever betraying the material and the richness of the sounds complex of all the music. Its appearance is very sculptural, anchored in its time and subtly modernized in this new version of Jubilee.
Производитель
Jean-Marie Reynaud
Страна производителя
Франция
Вариант отделки
Pearly White (Жемчужный белый)
Общие характеристики
Тип акустики
напольная
Рекомендуемая мощность усилителя
40-250 Вт
Паспортные данные
Чувствительность
90 Дб
Сопротивление
4 Ом
Диапазон воспроизводимых частот
35-28000 Гц
Конструкция
Количество полос
2
Количество динамиков
3
ВЧ-излучатель
19 мм, шелковый купол
НЧ-излучатель
2 х 140 мм, сэндвич углерода
Потребительские свойства
Ширина
300 мм
Высота
1150 мм
Глубина
200 мм
Вес
32 кг