Nasotec VEM Shoe&Spike Set Black (4 pcs.)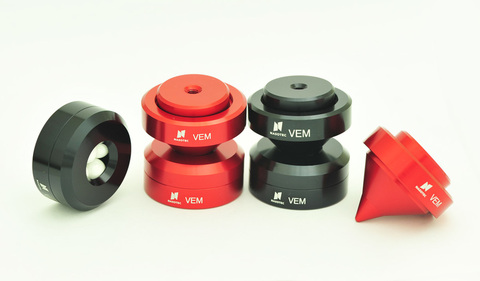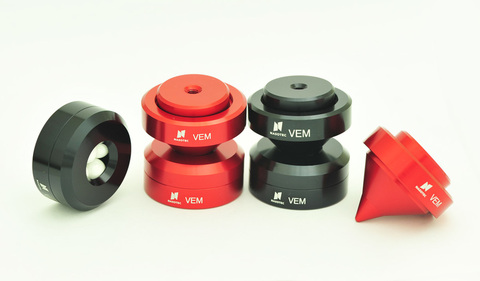 VEM (Vibration Extinction Mechanism)
Incoming vibrations are designed to be extinct immediately without delay time. The isolation materials having
delay time always suffer from the modified and reproduced secondary vibrations by new vibrations inflow
continuously.
[Dimension]
-Set: 41 x 43.5 (W x H)mm
-Spike: 41 x 37 (W x H)mm
-Shoe: 40 x 18 (W x H)mm
-Spike fixing screw: M5
[Spec]
-Recommending max. load: 10 kg (22 lb)/pc
-Max. withstanding load: no data ( expected allowable load is far more than 100kg / each )
-Materials: Aluminium / ZrO2 G10 ceramic balls
[Features]
-High precision CNC milled
-Easy to set up. Just put your equipment on the top of the spikes as the spike stands by itself on the shoe.



[Vibration isolation test]

Outline of the test method:
-This isolation test was done by Nasotec and we used our cheapy drilling machine as a vibration generator.
-Test samples were put on a cheapy drilling machine one by one. The plate supporting samples is about
2.9 Kg aluminium panel.
-Test sequence: <Without isolation> - <with Pulsar Spikes> - <with multi layer silicone band damping footer> -
<with Nasotec VEM Spike & Shoe>.
-Test application: VibSensor
-Test date: 7/5/2017