Martha Argerich & Mischa Maisky Schubert & Schuman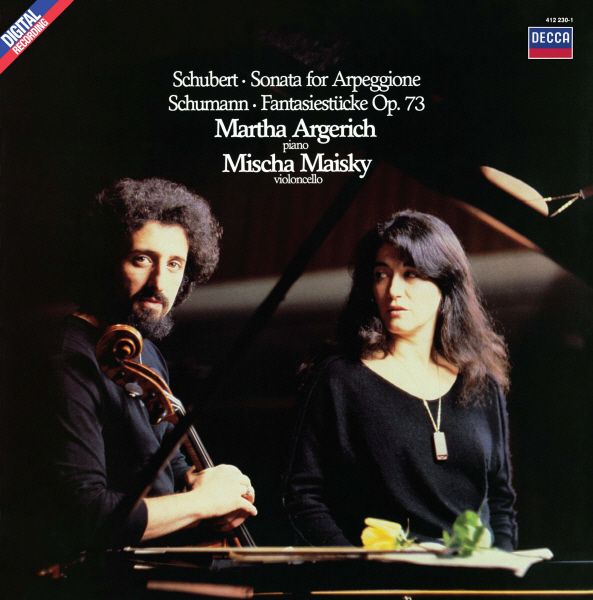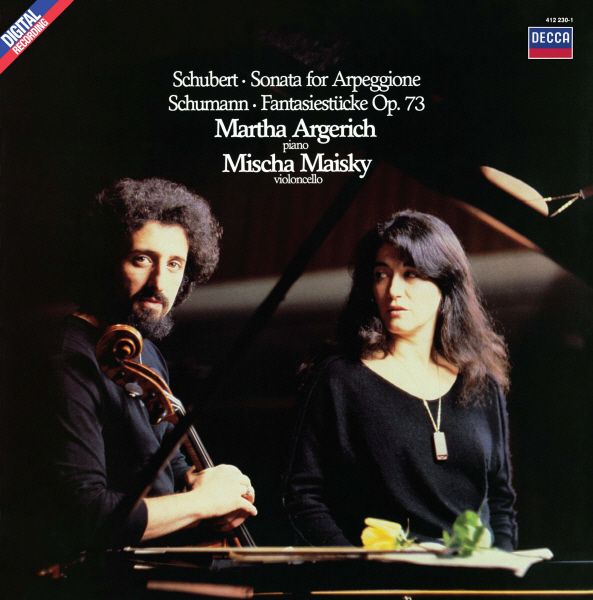 Бренд

ANALOGPHONIC
Артикул

ANAP DD41020
Audiophile 180g Virgin Vinyl Cut at Emil Berliner Studio! Pressed at Pallas in Germany! Mastered from the Original Masters of Universal Music!
Acclaimed pianist Martha Argerich and violinist Mischa Maisky perform Schubert's Sonata for Arpeggione and Schumann's Fantasiestucke Op. 73.
In 1823 Johann Georg Staufer invented the arpeggione, a six-stringed instrument with the fretted fingerboard and tuning of a guitar but played with a bow, like a viola da gamba. Though its survival was brief, it found one notable Viennese exponent in Vincenz Schuster, who even published a tutor for it. Schubert's single work for arpeggione, nowadays most often appropriated by cellists, was composed for Schuster in November 1824, a year memorable for the 27-year-old composer's return to health, after serious illness, and also his return to the sphere of chamber music.
"All the instruments are having a turn" was Clara Schumann's diary comment in the spring of 1849 as her husband, approaching his thirty-ninth birthday, wrote miniatures for clarinet, horn, and cello with piano (oboe and viola suites soon followed). With her own concert travels restricted by a fast-growing family, domestic music-making with friends from the Dresden Court Orchestra proved a constant source of pleasure for them both. The "Fantasiestucke" for clarinet, Op. 73, dated February 11-12, 1849, were in fact tried out by Clara with the clarinettist, Johann Kotte, barely a week later, though Schumann at once stipulated that they were no less apt for violin or cello as clarinet. The word attacca after Nos. 1 and 2 as well as the A minor-major key-scheme reveals that Schumann envisaged the three pieces as a continuous suite travelling in mood from nostalgic lyricism to firm resolution.
Features:
Audiopihle 180g Virgin Vinyl

Cut at Emil Berliner Studio
Pressed at Pallas GmbH Germany
Mastered from the Original Masters of Universal Music
Audiophile Lacquer Discs Cut by the Expert "Maarten de Boer"
Musicians:
Martha Argerich, piano

Mischa Maisky, violin
Selections:
Side A
Franz Schubert (1797 - 1828)
Sonata for arpeggione and piano in A minor D. 821
1. Allegro moderato
2. Adagio
3. Allegretto
Side B
Robert Schuman (1810 - 1856)
Fantaisies for cello and piano Op. 73
1. Zart und mit Ausdruck
2. Lebhaft, leicht
3. Rasch und mit Feuer
5 Pieces "im Volkston" for piano and cello Op. 102
4. Vanitas vanitatum (Mit Humor)
5. Langsam
6. Nicht schnell, mit viel Ton zu spielen
7. Nicht zu rasch
8. Stark und markiert