Kyung Wha Chung Con Amore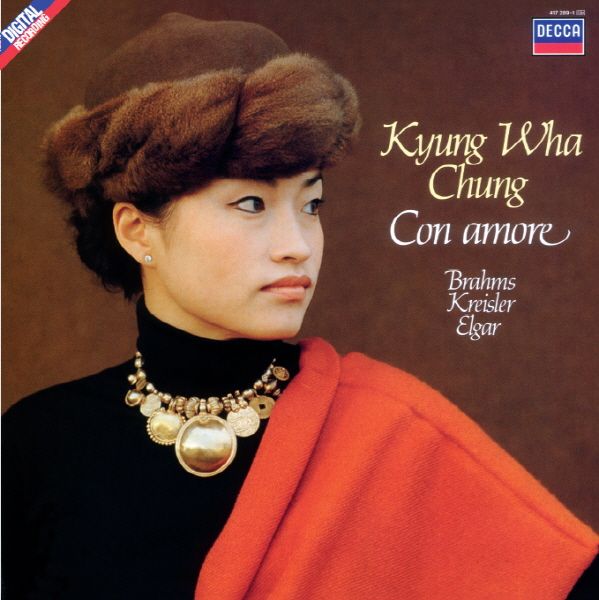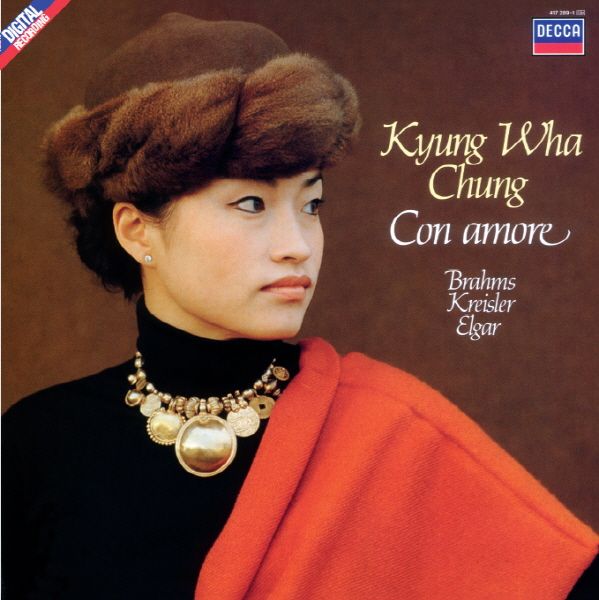 Бренд

ANALOGPHONIC
Артикул

ANAP DD41018
Audiophile 180g Virgin Vinyl Cut at Emil Berliner Studio! Pressed at Pallas in Germany! Mastered from the Original Masters of Universal Music!
Violinist Kyung Wha Chung & pianist Phillip Moll perform compositional works by Brahms, Kreisler and Elgar.
Korean violinist Kyung-wha Chung has been widely acclaimed both by critics and audiences.
Chung's career was at its peak during the '70s and '80s being ranked alongside the great violinists Pinchas Zukerman and Itzhak Perlman.
She became one of the most characterful and best-loved violinists in the world. The total involvement she conveys comes not just from the actual notes but from her physical stance, revealing her love of the music and of the violin in every movement of muscle. Yet today, even when faced with her most spectacular recording of showpiece concertos, she will deny that she is a virtuoso. What she means is that technique is merely incidental to her communication through music. This dislike of showing off for its own sake accounts for her reluctance to concentrate on 'firework' pieces in this selection, preferring instead pieces she loves for other reasons.
Features:
Audiopihle 180g Virgin Vinyl
Cut at Emil Berliner Studio
Pressed at Pallas GmbH Germany
From the Original Masters of Universal Music
Audiophile Lacquer Discs Cut by the Expert "Maarten de Boer"
Musicians:
Kyung Wha Chung, violin

Philip Moll, piano
Selections:
Side A
Fritz Kreisler (1875 - 1962)
1. La Gitana
2. Liebesleid
Ede Poldini (1869 - 1957) / Fritz Kreisler
3. Dancing Doll (Poupée Valsante)
Henri Wieniawski (1835 - 1880)
4. Scherzo - Tarantella, Op. 16
Edward Elgar (1857 - 1934)
5. Salut d'amour, Op. 12
6. La Capricieuse, Op. 17
Pyotr Ilyich Tchaikovsky (1840 - 1893) / Michael Press
7. Valse sentimentale, Op. 51, No. 6
Fritz Kreisler
8. Praeludium und Allegro (in the style of Gaetano Pugnani)
Side B
Ottokar Novacek (1866 - 1900) ed. Josef Gingold
1. Moto perpetuo
Claude Debussy (1862 - 1918) / Jascha Heifetz
2. Beau soir
Frederic Chopin (1810 - 1849) / Nathan Milstein
3. Nocturne in C sharp minor
Henri Wieniawski / Fritz Kreisler
4. Caprice in A minor
Francois-Joseph Gossec (1734 - 1829) / Fritz Meyer
5. Gavotte
Fritz Kreisler
6. Liebesfreud
Cecile Chaminade (1857 - 1944) / Fritz Kreisler
7. Serenade Espagnole
Camille Saint-Saens (1835 - 1921) / Eugene Ysaye
8. Caprice (after Etude en forme de valse, Op. 52, No. 6)
Johannes Brahms (1833 - 1897) / Joseph Joachim
9. Hungarian Dance No.1