Gil Shaham & Goran Sollscher Paganini For Two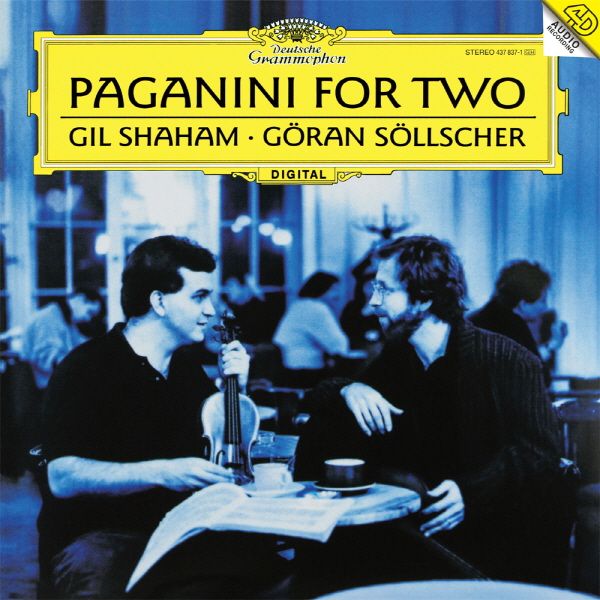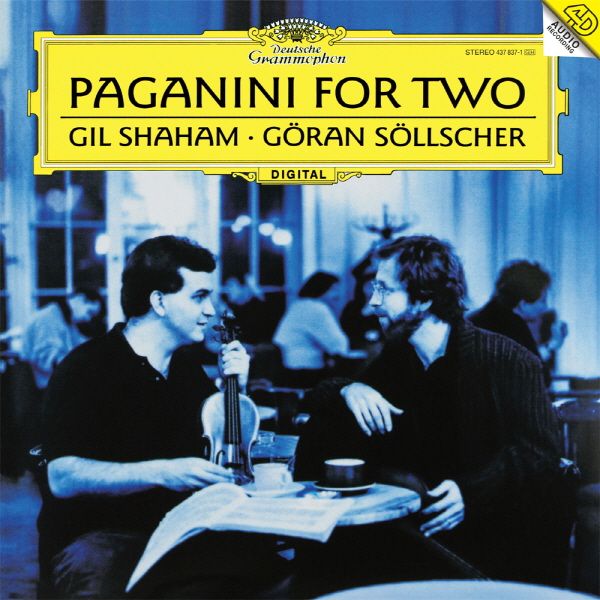 Бренд

ANALOGPHONIC
Артикул

ANAP LP43007
180g Audiophile Virgin Vinyl Pressed at Pallas in Germany!
Violinist Gil Shaham and guitarist Goran Sollscher team up for this performance of compositional works by Paganini.
The US-born violinist Gil Shaham first studied his instrument at the Rubin Academy of Music with Samuel Bernstein, among others. His musical focus is on Romanticism, he plays a Stradivarius from 1699. In 1981 he made his stage debut with the Jerusalem Symphony Orchestra, followed by studies at the Juilliard School in New York. Later he played concerts in large halls all over the world with renowned orchestras and conductors.
Goran Sollscher began his training as a classical guitarist in Kalmar, Sweden, at the age of seven. He attended the conservatories in Malmö and Copenhagen and received a record contract from Deutsche Grammmophon in 1978 after winning the Concours International de Guitare in Paris. Söllscher has been a member of the Royal Swedish Academy of Music since 1992.
"Paganini for Two" was recorded in November 1992 at the Jesus Christ Church in Berlin. The program consists of pieces by Paganini for violin and guitar.
Features:
180g Audiophile Virgin Vinyl

Pressed at Pallas in Germany
From the Original Masters of Universal Music
Audiophile DMM cut by the expert "Hans-Jorg Maucksch"
Cutting at Pauler Acoustics specializing in DMM
Musicians:
Gil Shaham, violin

Goran Sollscher, guitar
Selections:
Niccolo Paganini (1782-1840)
Side A
Sonata concertata M.S. 2 per chitarra e violino in A Major
1. Allegro Spiritoso
2. Adagio, assai Esperssive
3. Rondeau. Allegretto Con Brio, Scherzando
Sonata in A Major M.S. 27 (Op. 3) No. 1
4. Larghetto
5. Presto Variatio - Variazione
Sonata in E Minor M.S. 27 (Op. 3) No. 4
6. Andante Largo
7. Allegretto
Sonate in E Minor M.S. 27 (Op. 3). No. 6
8. Andante Largo
9. Allegro Vivo E Spiritoso - Minore
Grand Sonata in A Major M.S. 3
10. Romance. Piu tosto Largo, Amorosamente
Side B
Centone di Sonata in D Major M.S. 112 No. 2
1. Adagio Cantabile
2. Rondoncino, Andantino, tempo di Polacca-Minore
Centone di Sonata in D Major M.S. 112 No. 4
3. Adagio Cantabile
4. Rondo, Andantino, Allegretto - Minore - Maggiore
Cantabile M.S. 109 in D Major
5. Cantabile
Introduction and Variations On "Dal tuo stellato soglio" from Rossini's Mose - Sonata A preghiera In F minor M.S. 23
6. Introduction. Adagio
7. Theme. Tempo Alla Marcia
8. Variation I
9. Variation II. Vigoroso
10. Variation III
11. Finale
Allegro Vivace A Movimento Perpetuo in C Major M.S. 72 (Op 11)
12. Allegro Vivace